Van Isley
---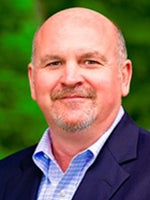 Originally from Burlington NC, Van earned a Bachelor of Science degree in Accounting from East Carolina University in 1985.
In 2003, Van founded Professional Builders Supply where he currently serves as the CEO.  Professional Builders Supply has been named eleven times to the Triangle Business Journal's annual list of 50 fastest-growing companies including a number one ranking in 2013.  The company was twice named one of Entrepreneur magazine's "Hot 100" fastest-growing companies in the United States and was listed several times on the Inc. 5000.  The company has also been named a Best Place to Work in the Triangle and in North Carolina.
Van currently serves on the East Carolina University College of Business advisory council and is a past recipient of the Outstanding Alumni Award at ECU.   Van and his wife Jennifer are the primary benefactors of the Van and Jennifer Isley Innovation Hub, a space where business, engineering, technology and art students can collaborate on product innovation and entrepreneurship.